Sustainer Brunch – April 3, 2022
All Sustainers are invited to a JLNW brunch on Sunday, April 3 at 11:45 am at Crabtree's Kittle House. Register here.
Cause an Effect Chipotle Fundraiser
Join us for a fundraiser to support the Junior League of Northern Westchester by dining in or ordering from Chipotle on 195 N. Bedford Road in Mt. Kisco on Tuesday, May 11th between 4:00pm and 8:00pm..  Show this flyer or tell the cashier you're supporting the cause to have 33% of the proceeds to be donated to the Junior League of Northern Westchester.
Dessert and Drinks End of Year Gathering!
Please join us June 8th at 7pm at Clara's house. Dessert will be from Ben and Jerry's and drinks will be served. Registration is $15.00. Please click HERE.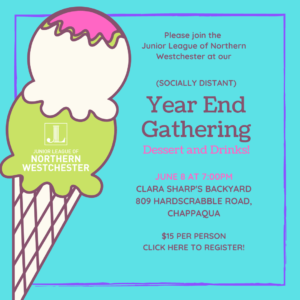 Annual Voting Meeting – April 22nd at 8pm
Please join us via zoom for our annual voting meeting. Register here.
September General Membership Meeting – Socially Distant Kickoff Dinner
Join us for our traditional Kickoff Dinner, which will take place socially distant and outdoors at Clara Sharp's House (809 Hardscrabble Road, Chappaqua). The Dinner/Meeting will start at 6pm (we're chasing the sun!). $35.00 when you register.