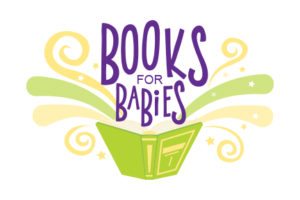 We are thrilled to introduce our newest initiative – Books for Babies! The genesis of this project comes from the sad reality that many households do not possess a single book for their children, yet the first few years of a child's life are some of the most developmentally important. About 80% of a child's brain is developed by age three, and parents are their babies' first teachers. It is clear that children who have a book rich environment have much higher success in school.
The importance of reading to children begins at birth. According to The American Academy of Pediatrics:
More than 1 in 3 American children start kindergarten without the language skills they need to learn to read.
Each year, approximately 2/3 of children in the United States and 80% of those living below the poverty threshold fail to develop reading proficiency by the end of third grade.
About 60% of American children from birth to age 5 who live in high-income families are read to daily; almost 2/3 of them hear stories or sing with their parents every day.
By comparison, 1/3 of children from low-income families are read to daily and fewer than half of them hear stories or sing with their parents every day.
Due to this, the JLNW is facilitating access to books in the home. We provide a literacy packet to every family for each child born at Northern Westchester Hospital in Mount Kisco, NY. Included in the packet is:
A bilingual board book to start each child's home library
Bilingual handouts promoting early reading and literacy
A list of local libraries in Westchester County, encouraging the foundation for a lifelong love of reading
Northern Westchester Hospital is actively sought out in the community for prenatal care, especially by underinsured and uninsured women, which enables us to make a lasting impact on this community through our literacy packets.
Together, we can provide the building blocks for a child's library and education, one book at a time.
Please join us in supporting this initiative by donating a book(s) from our Amazon Wishlist, or making a monetary donation here. If you are interested in organizing a book drive or in volunteering with the JLNW, please email us at info@jlnw.org.