Spring Fundraiser – May 12, 2022
Thursday, May 12, 2022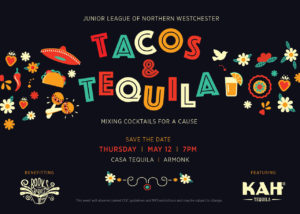 You are invited to join the Junior League of Northern Westchester for a night of "Tacos and Tequila," benefiting our Books for Babies program. The night will consist of guided cocktail making in teams, with a prize for the team who makes the most delicious libation!
The event will be held at Casa Tequila in Armonk, and will feature KAH Tequila.
Not a fan of Tequila? No problem – there will also be an open bar and food served throughout the night!
The event is open to all over 21 years old, and will be a great way to get out with your spouse and friends for a night of food and fun, all benefiting a meaningful community cause. Through our Books for Babies initiative, the JLNW facilitates access to children's books at home by gifting a bilingual literacy packet, including a brand-new bilingual board book, to every baby born at Northern Westchester Hospital.